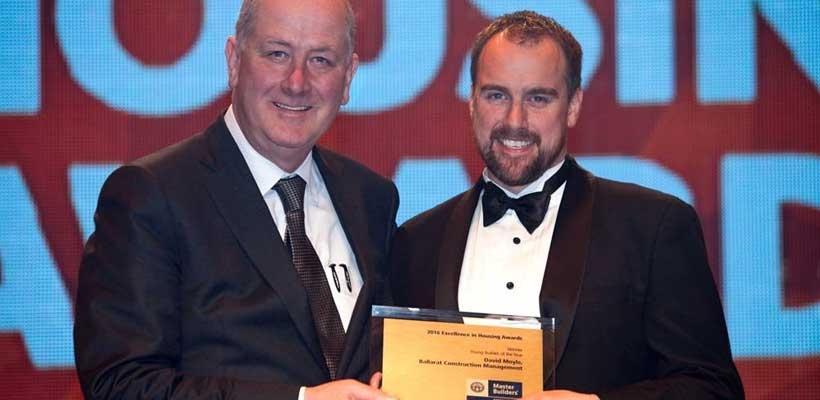 Builder David Moyle of Ballarat Construction Management has earned the title of 2016 Young Builder of the Year (Residential).
Over 700 guests attended the Master Builders Excellence in Building Awards to join in the celebration of Moyle's achievement and recognise other high achievers in residential construction.
David Moyle completed his apprenticeship as a carpenter in 2005. In the same year, he established his own company known as Ballarat Construction Management (BCM), of which he is the Managing Director.
Since establishing BCM, David has held several honorary positions in Master Builders' Ballarat Region including President from 2013 to 2015 and Chairman for Master Builders' Country Sector in 2014. He is currently a member of Master Builders' Board of Management.
"David exemplifies the enthusiasm and single-mindedness that leads our industry to thrive and achieve great things," Master Builders Association of Victoria CEO Radley de Silva said. "He has been a standout member of our Country Sector Committee and Board of Management."
The challenges of technically complex buildings appeal to him, and he tackles them with orderly professionalism and positive energy," Mr de Silva said. "It is no surprise that he is entrusted regularly with big-ticket domestic projects with high expectations. He delivers on them.
"Master Builders is delighted to recognise David as representative of our industry's important connection to our Victorian communities," Mr de Silva said.
Among the other major winners at the awards were Capel Constructions, named Builder of the Year for a richly-appointed rural estate, and Alexandra builder Hedger Constructions P/L, named Regional Builder of the Year for an impressive Marysville home.
Image: The hon. Richard Wynne MP, Minister for Planning presenting, Young Builder of the Year Winner, David Moyle, Ballarat Construction Management, with his Award.